We are accepting new admissions
 but have implemented additional pre-screening procedures to ensure the health and safety of everyone at Bel Aire Recovery Center. 
**At this time, all family visitation has been suspended until further notice.**
Bel Aire Recovery Center is closely monitoring all coronavirus (COVID-19) updates and is following suggested best practices from the CDC to prevent the spread of the virus. For more information,
please click here
.
About Bel Aire Recovery Center
We are dedicated. We are experienced. We are professional. But you will read these words if you go to any treatment center's website.
We are DIFFERENT. Here is why…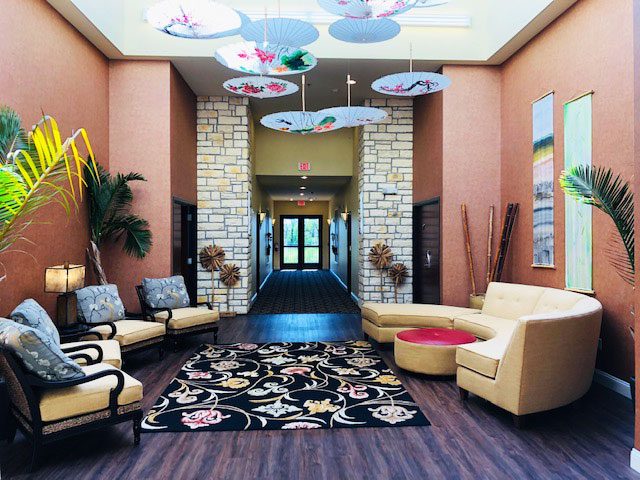 Our Skilled Staff Came Together With a Common Vision of Treating People the Way We Would Want to Be Treated.
We don't believe in a one-size-fits-all approach. People are different and their addiction experience is different. Therefore, our approach is to treat the individual and utilize the treatment techniques that work best for YOU. Not for the masses, but for YOU.
We are able to individualize our treatment by thoroughly assessing each client individually. We offer many different treatment modalities once we determine where an individual is at with their own addiction cycle.
Bel Aire Recovery Center's Clinical Team bases much of your recovery in brain-based treatment. There have been many breakthroughs made in neuroscience, and we have discovered the brain can repair itself. What does this mean for addiction treatment?
Many of us have habits we have developed and those habits create a path in our brain to support that habit. The more we engage in the habit, the stronger the path becomes. Picture a well-worn path to a lake or special spot in the woods. Your brain has been trained to do a particular behavior so strongly that it avoids other paths. This has led to an addictive cycle. However, with intensive brain-based treatment, we can create NEW pathways. These pathways will include healthy choices that will bring pleasure in sober living. We can help you or your loved one to retrain the brain!
We believe that in order for addiction treatment to be successful, the chemical and physical aspects of the brain must be considered. We integrate this with counseling, support groups, exercise, spirituality and nutrition for a whole person approach.
Mission
Improve the lives we touch.
Values
We are committed to achieving our mission by staying steadfast in these values:
Honesty-We work with integrity and fairness.
Competence-We strive to be the best and hold ourselves accountable.
Perseverance-We meet challenges with the resolve to succeed.
Passion-We are about what we do, each other, and who we serve.
Respect-We honor the human dignity of everyone we work with.
Teamwork-We succeed, and have fun, by pulling together.
Our Treatment Philosophy is Built Around You
Addiction has a way of taking over your life, making you feel like you're living in a dark place all alone. At Bel Aire Recovery Center, we know how to walk with you through the darkness and help you find hope and tools to get to the other side. We also know there is more to your story than your current struggle with addiction. We believe you can rebuild your life…and we can help.
"Alcohol was not my problem. My problem was that alcohol was my solution." – Anonymous
We believe that addiction primarily develops as an attempt to solve a problem or ease pain or discomfort. Because of this, we approach your treatment with both a strong focus on achieving sobriety, and also on building skills to begin to heal the root cause of the addiction and subsequently prevent relapse.
Brain-Based Recovery
Brain-based recovery offers real hope and useful tools to anyone struggling with addiction.
Brain-based recovery begins with a simple understanding of how your brain developed and responded to stress or trauma in your life. It continues to explain how your brain, mind, and body responded further to the use of drugs or alcohol – as a way to ease that stress or pain. This understanding of how your brain adapts can go a long way in explaining how and why addiction took over.
In the same way that brain-based recovery sheds light on how the addiction progressed, it can also show you the way out of your addiction and into a state of renewal – a way to rebuild your life. This rebuilding is made possible by the renewal of neural networks within your brain. This process is called neuroplasticity – it is your brain's capacity to continuously remodel itself.
Integrating brain-based recovery principles with solid recovery practices combined with our focus on YOU is what makes us different.
At Bel Aire Recovery Center, we seek to listen and learn. To understand and educate. To provide hope and tools.
At Bel Aire Recovery Center, we listen to your story and learn where you most need support – physically, emotionally, spiritually, in your relationships, or a combination of all those things.
We provide integrated and individualized treatment that works:
Physical support to detox and heal
Emotional support to stabilize and calm
Community support to rebuild relationships
Spiritual support to reconnect with your purpose
Heath Bechler, LCAC, MBA, MA
CEO
Heather Roe DO
Medical Director
Jean Rhea, LCMFT (KS) and LMFT (CA), MA, MS
Director of Clinical and Trauma Services
Ryan Duft, BSN, RN
Director of Nursing
Sarah Miranda
HR/Business Office Manager & Client Advocate
Mica Wiemann, MBA
Director of Business Development